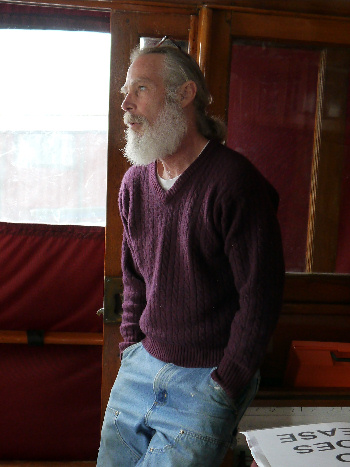 Thirteen years ago, Jack McCarley found his boat.
He and his girlfriend were looking for a sailboat to live on. There was the classic dilemma between them: Sailboats are great for sailing, but generally don't have great space below. His girlfriend wanted space and light, so they branched out and looked at other kinds of boats.
On a whim they went to see Katie Mack.  She was languishing in Steamboat Slough in Everett, all but abandoned by her owner. She had been stripped and her interior had been badly modified. But Jack could see past the bad workmanship of the modifications, and he could see the outlines of where her original fixtures had been built.
This boat spoke to him on a level above reason. Jack knew he was going to bring her back to her glory. His girlfriend loved it. The clincher? The boat was built the year his dad graduated from the Naval Academy.
Jack has spent his life following his heart from one project to the next, gaining new skills and teaching others. He's been tied down to a "real" job only once, and he made himself stay for a year just for the experience. He has lived simply, and it sounds like he has always kept busy doing things like teaching boatbuilding.
He's tried to retire from his teaching jobs, but they just keep calling him back for special projects like the one he is working on now teaching students at Tacoma's Stadium High School to build wooden kayaks. Jack previously taught students another Tacoma high school how to build tiny houses that could be put anywhere. He's been ahead of the curve in that respect. He admires fine craftsmanship and good wood, and sees value and beauty in simple things done well.
Jack's love affair with wooden boats started in 1984, when he picked up a magazine during a moment of unguarded boredom. Living with his family in Arizona, he had a job building houses and boats were the last thing on his mind. Although his father was a naval officer, Jack had never worked around boats or even considered the concept of boatbuilding.
All of that changed when he happened upon the 10th anniversary copy of WoodenBoat magazine while out shopping with the family. As he flipped through the pages, an advertisement for The Landing School of boatbuilding in Maine leaped off the page and into his heart. Jack's soul spoke loudly and clearly that day, the fates intervened, and thus began a lifetime as a modern-day Renaissance man.
Built in 1932 at the McGugan Brothers' yard in Vancouver, B.C., Katie Mack is an antique wooden bridgedeck-style motoryacht that could turn even the most confirmed landlubber into a liveaboard wannabe. The Classic Yacht Association website lists her as having been designed by Ed Monk, Sr., but Jack believes this to be inaccurate.
When this boat was built, Ed Monk, Sr. was working for a naval architect of some considerable fame: L.E. (Ted) Geary. Although this boat may have been a collaboration between the two men, Jack says he located a sister ship to this one and that owner is clear that his boat was designed by Ted Geary. The sister ship, Emmeline, was reviewed on Three Sheets Northwest.
Jack has spent the last 13 years restoring Katie Mack in a 1930s period style that is both elegant and functional. His appreciation for simplicity of design that offers functionality is obvious in many areas of the vessel, which I recently toured when it was for sale.
This is a beautiful boat inside and out. Stepping aboard is like going back to an era where people expected a yacht to be comfortable and solid. I felt completely under-dressed in my jeans and sweater. Visions of flowing lawn dresses, large decorative hats and languid waving from the bow scampered across my imagination. Alas, I have no white gloves.
The pilothouse is wonderful, with opening windows all around and sturdy doors on either side. Jack has installed a lovely folding table taken from a sailboat and says it's extremely useful as a buffet when at raft-ups with other boats.
Forward from the wheelhouse and down a couple of steps is the cozy salon. One of the things I liked about it is how deep the seating is. Notice in the photo of Jack that these settees are deep enough to nap on without any problem. If you have been reading our blog for any length of time, you know that we like cozy areas to nap, and these settees are not the cramped ones seen on so many sailboats.
The woodwork on this boat is amazing. It reminded me of homes that were built in the same era, with lovely built-in bookcases and cabinetry, all gleaming wood. Houses built during the 1930s and 40s feel solid and permanent, and Katie Mack has that same feeling, which seems to be missing in so many modern houses and boats.
Forward of the salon is the completely precious galley. It's like a dollhouse for adults! It is completely functional, but so attractive in that tiny house kind of way. The countertops are covered in rosy tile that glows when the sun lights up the space. There is counter space to work on and plenty of cabinets for storage. One of my favorite features was the sturdy way the cabinet doors are secured.
The galley is serviced by a Dickinson diesel stove, which also provides a good way to heat the cabin. You will notice that there is a butane stove top settled on top of the Dickinson. That's because while these diesel stoves offer comfortable, dry heat on a boat, they are not particularly efficient for cooking.
However, that little butane burner is extremely efficient. Our son uses one on his Ericson 25 and he loves it. It's cheap and easy, and works great.
The sleeping areas are to the rear of the boat on the other side of the wheelhouse, a layout that offers privacy and quiet if some passengers want to stay up and visit while others rest. The space is versatile, offering a number of ways to use it.
For instance, going down the steps into the passageway, the first cabin offers great space for storage. It is currently being used as a hanging locker. Were I to live on this boat, this would become my walk-in closet, something I don't have even in my 3,000-square-foot home. All of my shoes would fit nicely in this space, with room to spare.
To the left in the passageway are new panels with caned screening. Behind them are drawers filled with bits and pieces of supplies and tools.
Next aft is the head.  This little cabin sports a small corner sink that is original to the boat. Jack found the commercial-grade faucets, but they look like they could have been original. He's never run out of hot water for the full stand-up shower because there is a dedicated seven-gallon Bosch hot water tank that works on the house electricity. (And by the way, there is one in the galley, too.) It's hard to imagine never running out of hot water on a boat, especially as I am accustomed to taking a shower via bucket.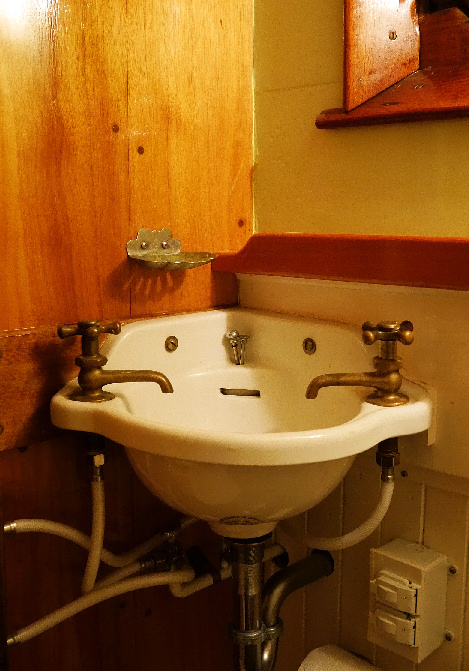 At the end of this passageway is the master cabin with a double berth. It's light and airy, with very good headroom. There is enough floor space in this cabin that a small chair could be placed in the corner, or one could have a dresser built in. There are sliding doors that match the ones in the passageway with storage behind them.
Again, the theme for this room is beauty in simplicity. The combination of high-quality white paint and varnished wood is stunning. Jack has used trampoline mesh to provide support for the berth mattress, and there is a light for reading. More opening ports provide natural light and ventilation.
In the photo above you will notice hatch doors standing open. These open to the rear deck, where there is room for deck chairs to sit and watch the world go by. On the rear cabintop, the little red Minto-style sailing dinghy is stored on its own cradle. Mike would love to have one of these boats to use as a tender.
The rear cabintop is finished in a traditional style, using heavy canvas laid in white lead paste. This gives the deck a very soft finish that is completely waterproof. I will admit that I immediately thought about painting things on this canvas, like maybe an underwater scene, or even something Picasso-esque, kind of like making a canvas floor cloth. But that would not be very traditional, and this boat is nothing if not classic.
Standing on the cabintop is what looked to me like an actual mast. Turns out it is a deck crane, intended to launch the dinghy and haul it back onboard. Jack says you can also attach a staysail on the rear rig to act as a stabilizer in heavy weather. What a great idea!
In all we spent several hours with Jack on his boat and at the end of our time, I was sad to leave it. This is a comfortable and beautiful vessel that would speak to anyone who has a love for traditional craftsmanship. If I owned it, I'd be constantly going up to the Gulf Islands and just hanging out. Jack, however, seems to like to stick closer to home. His favorite destination? Penrose Point. And we agree it's a lovely place to drop a hook.
Jack is proud of the work he's done on Katie Mack, and rightly so. He hates to sell her, but like so many Rennaisance men, he has a lot of projects going and to move on to the next one, she has to have a new owner. And she does. A couple from Maine recently flew out to see her and fell in love with her.
Katie Mack is now en route to her new home with them.